Automechanika offers a new digital format for the international audience with a focus on industry and trade. Under the motto 'Let's talk Business' a series of panel discussions on current topics with international key players, associations and supporters is organized.
Let's talk business webinar series in South Africa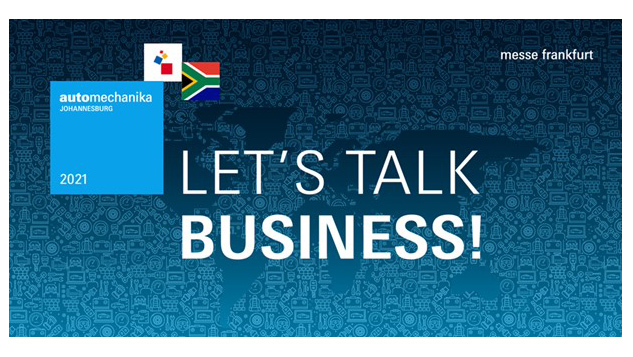 Automechanika Johannesburg is launching its own "Let's talk business" webinar series for the African market in October 2021. Each month, experts will discuss topics such as financing solutions, sustainability, training and how to best protect your business in times of disruption.
You can find the webinar dates here
Let's talk Business: "Connectivity"
The third web talk brought together leading companies and associations who shared their views on the topic: Connectivity, data-based business models and legal framework
Guests:
Norbert Dohmen, Managing Director, Caruso Dataplace
Ronan McDonagh, Technical Director of Figiefa – the European Federation of Automotive Aftermarket Distributors
Dr. Tibor Pataki, Head of Motor Insurance, Automobile Technology, Statistics and Crime Prevention, GDV – German Insurance Association
Gerd Preuss, Productmanagement, ADAC
Frank Schlehuber, Senior Consultant Market Affairs, CLEPA – European Association of Automotive Suppliers
Host:
Sarah Lindsey, Director Business Development, Automotive, Transport & Logistics
Let´s Talk Business: "Alternative drive systems"
The second web talk brought together leading companies and associations who shared their views on the question: Which mix of alternative drive systems do we need to reach the EU climate targets?
Guests:
Pierre Olivier Calendini, Chief Representative Fuel Research Center, Aramco
Dr. Isabel Kundler, Project Coordinator, DECHEMA e.V.
Alain Mathuren, Communication Director, FuelsEurope
Mark Freymüller, CEO, Hyundai Hydrogen Mobility
Frank Müller, representative of the BEM – the German Association for electromobility

Dr. Axel Koblitz, Managing director of the German Association of Cardealers and Mechanics

Host:
Olaf Musshoff, Director Automechanika Frankfurt
Did you like this talk?
We would like to be able to offer you even more in future, and that is why we would appreciate your feedback:
To the survey