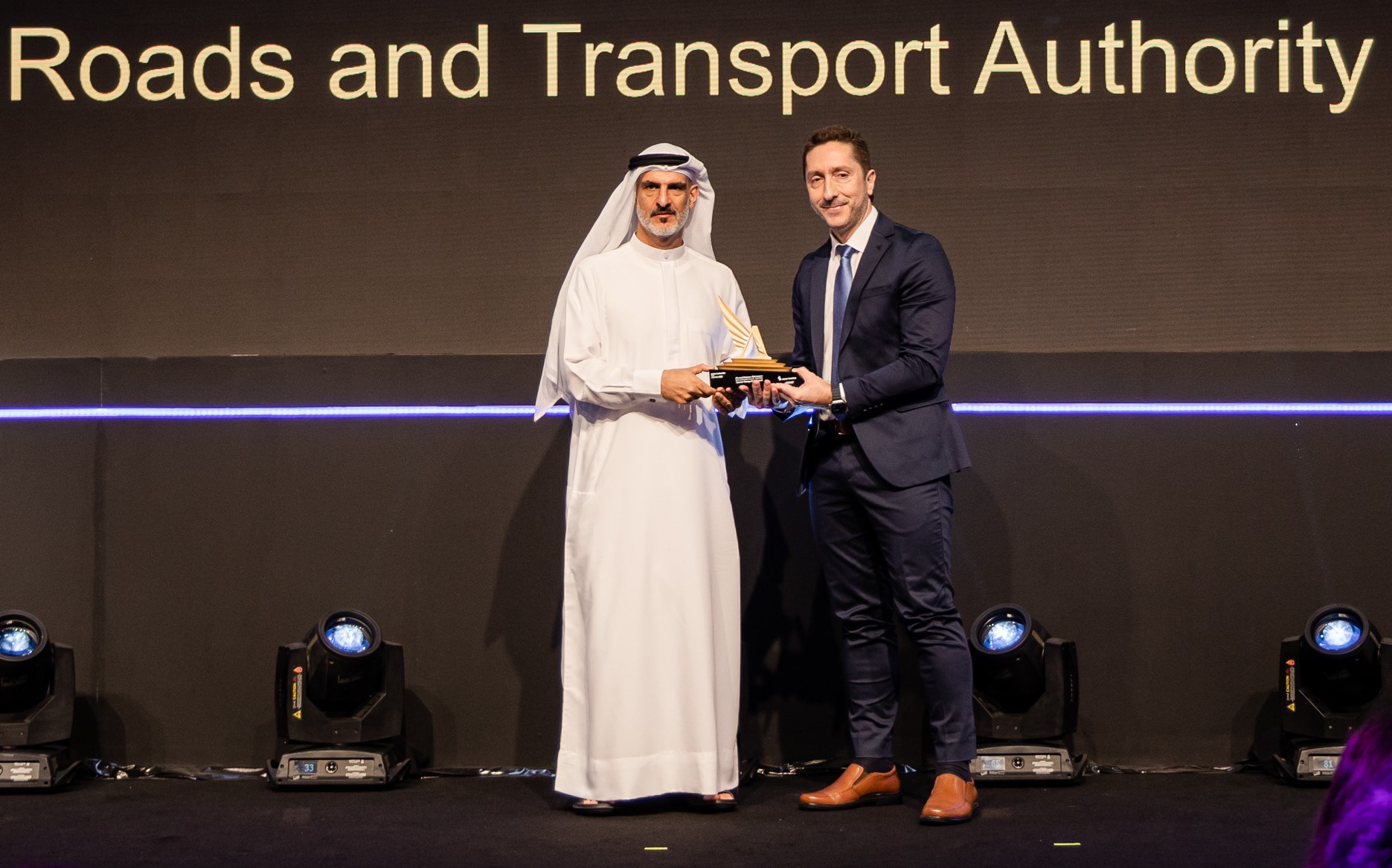 Dubai, UAE: Ahmed Hashem Bahrozyan, CEO of The Public Transport Agency, Roads and Transport Authority – Dubai (RTA), has received the Special Recognition Award at this year's 20th anniversary special edition of Automechanika Dubai for his outstanding contributions and commitment to innovative transport solutions and delivering world-class services in the emirate.
Bahrozyan, responsible for the city's public transport in his position of CEO, has had a distinguished career, holding several senior roles at RTA, including CEO of Licensing Agency. In this position, he managed all aspects of vehicle registration, licensing operations and drivers' training , set policies and technical standards to ensure the roadworthiness of vehicles and the competency of drivers. Additionally, he chaired the Higher Committee for Digital Transformation and Digital Quality of Life, the Supreme Committee for the operation and launch of self-driving taxis, and multiple other high-profile committees.
Speaking at the awards, which took place this morning at the Dubai World Trade Centre on day two of the Middle East and Africa's largest international trade exhibition for the automotive aftermarket, Mahmut Gazi Bilikozen, Portfolio Director at Messe Frankfurt Middle East, the organiser of Automechanika Dubai, said:
"This award recognises the outstanding contribution Ahmed Hashem Bahrozyan has had on Dubai's roads and transport through his unwavering commitment to achieving excellence. Under his stewardship, we have seen a range of new technologies and innovative projects which have helped underscore Dubai's focus on providing a safe and technologically advanced road and transport network, and as such, an incredibly worthy winner of this award."
The awards ceremony also recognised several leading lights in the sector after receiving 399 entries across ten categories, which included a truly international mix of entrants from the UAE, Australia, France, Germany, Italy and Spain, amongst others.
Highlighting the diverse nature of the industry and the latest advances in innovation, several new categories have been added, including the Start-up of the Year category, which was won by Autobia, the Saudi-based B2B platform specialising in automotive aftersales and spare parts, the Digitalization Project of the Year which was won by GaragePlug for their end-to-end digital platform transforming the way companies in the industry do business, and Digital Product of the Year, won by AutoSmart Audit by AutoSmart Technology, who have developed an all-in-one cloud-based audit management platform.
"These new award categories underscore the drive within the industry to develop innovations and utilise the latest technology to keep pace with, and in many instances, accelerate beyond what is happening in other industries. Several of these new developments are game-changers, and as part of our remit, we want to ensure we celebrate those excelling within the automotive aftermarket industry," added Bilikozen.
Other winners included Nisreen Akhter from Star Composed Chemicals MFG LLC, who was the winner in the Women in Automotive Aftermarket category.
In the Product of the Year categories, GS27 PURE by GS27 won the Sustainable category, SSL HD Light by HELLA was successful in the Innovative section, and Guniwheel by Martech Car won the hotly contested Product of the Year category.
Rounding out the awards was the Service Provider Categories, where D Luxe Car Care was the Customization Specialist of the Year winner; Eurodiesel Services LLC were triumphant in the Service Provider of the Year – Commercial Vehicles category; Munich Motor Works collected the top accolade for Workshop of the Year – Passenger Cars; and the Bodyshop of the Year category again saw Munich Motor Works pick up the win, jointly with Al Shirawi Enterprises LLC.
Celebrating Automechanika Dubai's 20th year, a special award was presented to Dolphin Manufacturing, Spare Parts & Hardware Co. (SPARCO), and Megacell, who have all been present at the exhibition since the very first year.
The awards, which were sponsored by Bridgestone Middle East and Africa, were judged by a distinguished list of experts from a cross-section of the automotive industry. They included Graham Threlfall, Global Key Account Manager – Vehicle Refinishes, AkzoNobel; Abdulla Rashed Obaid AlDahail Almheiri, Strategies and Organizational Excellence Office Manager; and Nasir Saif Sultan AlSeeri, Head of VIP Vehicles Maintenance Section, both Dubai Government Workshop; and Dr. Nima Mehrdadi, Vice President Aftermarket Middle East, Africa, CA & India, Managing Director, Hella Middle East.
They were joined by Alan Whaley, Founder and Chairman, AMENA Professional; Vishal Pandey, Partner, Automotive & Mobility Practice, Glasgow Research & Consulting; Michel Malik, CEO, BodyShop News International; Zuhri Yusof, Automotive Industry Expert; and Tufan Baysal, Director, Middle East/Africa/Eurasia Aftermarket EMEA, Niterra.
The latest Automechanika Dubai news stories are available on our 'Press Releases' page.
To register as media, please click here.
To register for Automechanika Dubai 2023, please visit our 'Visitor Registration' page.