Automechanika Dubai hosts the Ministry of Energy and Infrastructure (MoEI) as the ministry looks to encourage private sector involvement with government green mobility projects
MoEI's participation at Automechanika Dubai comes ahead of the ministry's target to bring a total of 914 AC and DC EV charging stations nationwide by the end of 2023
Automechanika Dubai takes place until the 4 October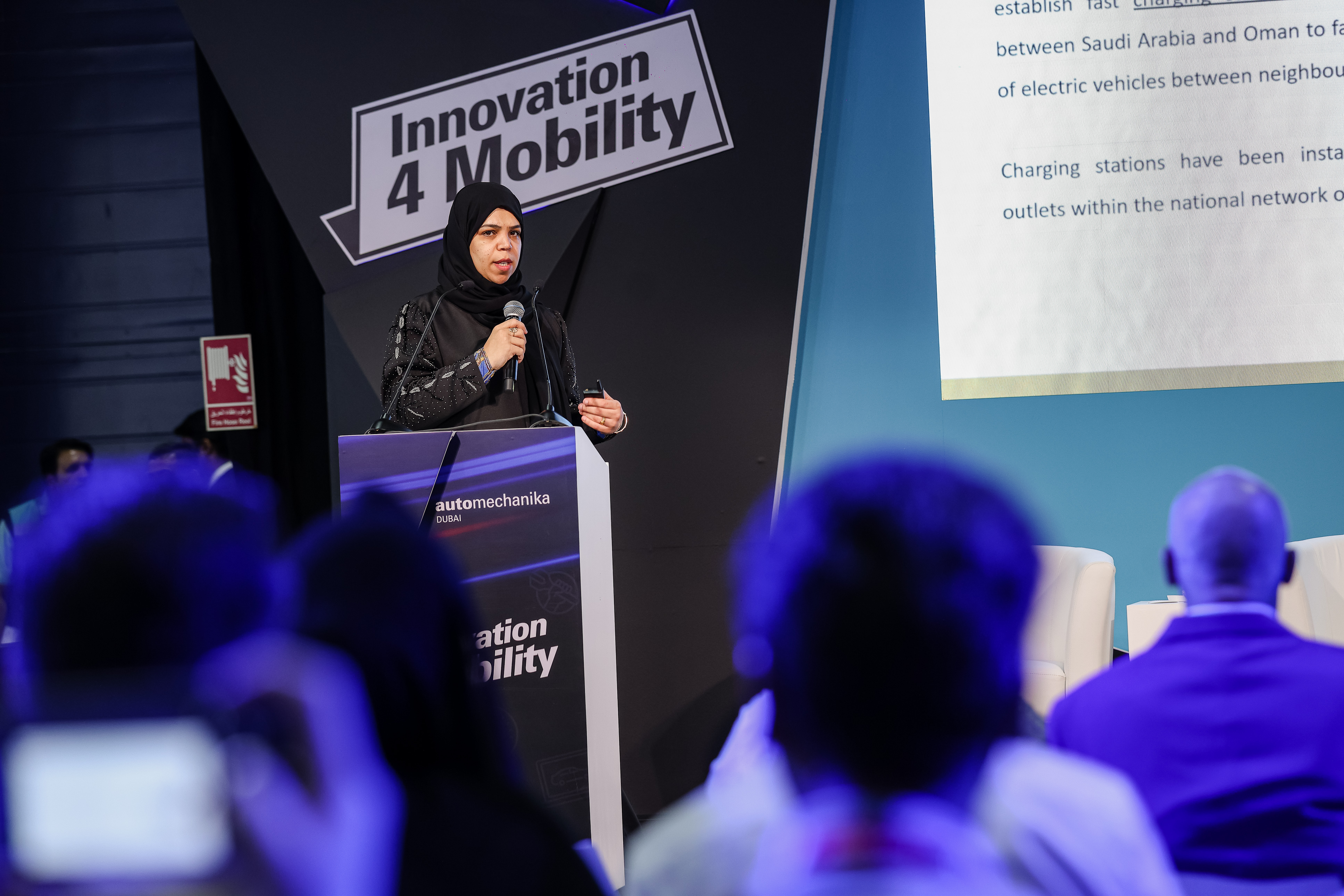 Dubai, UAE: The opening session of the new Innovation4Mobility zone during the 20th edition of Automechanika Dubai - the largest international trade show for the automotive aftermarket industry in the Middle East – took place at Dubai World Trade Centre , shining a spotlight on the UAE's vision for future mobility.
Speaking at the opening Innovation4Mobility session yesterday, Eng. Somayyah Alyammahi, Head of Productivity Projects and Demand Management Section at the UAE Ministry of Energy and Infrastructure (MoEI) highlighted the main aim of the 2023 National Electric Vehicles Policy in helping the UAE achieve its objectives of reducing energy consumption by 40% and carbon emissions by 404 kilotons by 2050, as well as increase the share of electric vehicles to 50% of total vehicles on our roads by 2050.
The policy serves as a regulatory framework to guide efforts to align the standards for the infrastructure of electric vehicle charging stations and facilitate integration among stakeholders across the country.
"The main outcomes for the national roadmap for EV charging stations in the UAE include increasing the number of EV charging stations in the country by 360 charging stations, bringing the total to 914 AC and DC charging stations by the end of 2023," she explained.
"We are also preparing a national platform for EV charging stations that will monitor and operate all stations, as well as preparing a mobile application that users can use to find out more information about the stations, and we are sighting several partnerships with EV manufacturers to provide incentives to the community."
Eng. Somayyah Alyammahi also revealed that the MoEI is working to establish fast charging stations on the common border between Saudi Arabia and Oman to facilitate the movement of EVs between neighbouring countries.
Automechanika Dubai has introduced 'Innovation4Mobility' as an exclusive zone dedicated to showcasing products and delving into the latest technologies and trends, analysing how the aftermarket industry will evolve amidst the changing landscape of Newer Mobility.
Mahmut Gazi Bilikozen, Portfolio Director at Messe Frankfurt Middle East, the organisers of Automechanika Dubai, said: "Efficiency and sustainability are paramount across all industries, and the automotive sector is no exception. With the rapid advancements in the electrification of vehicles, climate-neutral mobility, connected mobility, autonomous driving, and Mobility-as-a-Service (MaaS), urban mobility is poised for a transformative shift by 2030.
"Discussions and displays within this section will spotlight alternate fuel vehicles, driving technologies, digitalisation, connectivity, and smart infrastructure, offering a unique opportunity to explore the New Age Mobility Ecosystem."
Elsewhere on the agenda at Innovation4Mobility, key topics yesterday included electrifying fleets in the GCC and a global demand outlook and vehicle sales market in Middle East. Meanwhile, a panel discussion hosting experts from BMW AGMC, SIXT Middle East and BluSmart focused on how digitisation, artificial intelligence and customer centricity redefine automotive and mobility retail.
Today, a selection of experts will gather to discuss the future of technology for mobility. Sessions include car park technology, using Microsoft Azure Cloud for testing and validation of autonomous vehicles, and a case study on the progress of connected and automated mobility in Qatar.
Automechanika Dubai 2023 continues until 4 October, spanning 14 halls and showcasing 1,938 exhibitors from 61 countries, and covering eight specialised product categories: Parts & Components, Electronics and Systems, Accessories and Customizing, Tires and Batteries, Car Wash and Care, Oils and Lubricants, Diagnostics and Repair and Body and Paint.
The latest Automechanika Dubai news stories are available on our 'Press Releases' page.
Click here for images of Automechanika Dubai: Automechanika Dubai images.
To register for Automechanika Dubai 2023, please visit our 'Visitor Registration' page.