What will the workshop of the future look like? The special show 'Future Mobility Workshop 4.0' provides exciting insights into this. The innovation showcase presents the technologies, processes and business models of tomorrow.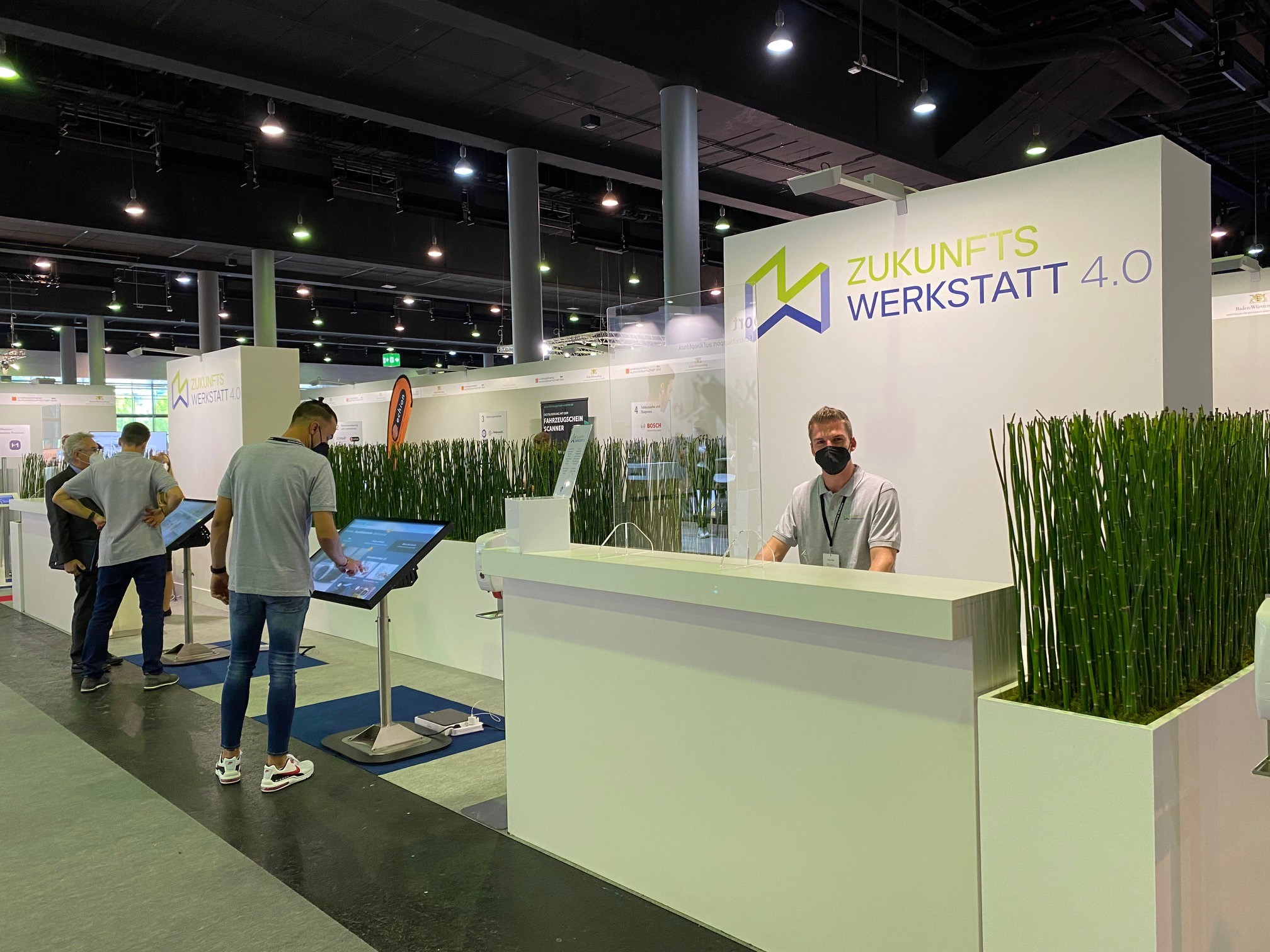 The Future Mobility Workshop 4.0 is a practice-oriented contact point for companies in the automotive industry. Here you will receive valuable impulses on how to make day-to-day business more efficient and business models more future-oriented. For this purpose, the structures of a classic car dealership are mapped realistically and practically. Along the customer processes in sales and aftersales, visitors can find out about innovative technologies and try them out at the same time. A knowledge database - the innovation radar - as well as the numerous technologies and applications of the innovation partners ideally link theory and practice.
"By structuring innovations according to subject areas, we are offering visitors a completely new opportunity to find out and exchange information. We do not think the fair in terms of stand areas of companies, but in terms of application and solution fields."
Almost 30 companies will be presenting concrete products, technologies and solutions for today's and tomorrow's workshop business at ten theme islands in Hall 9.0, Stand E62, will present concrete products, technologies and solutions for the workshop business of today and tomorrow.
Vehicle diagnostics
Paperless car dealership
Customer communication
Dealer Management Systems
Digital services
Networked workshop
Mobility services
New Business
Product and service innovations
Research and further education
Daily tours
In addition, the Future Workshop 4.0 team will offer two daily tours of the Future Workshop 4.0 stand - at 11:00 and 15:00 respectively. No registration is required.
Future Workshop 4.0 at the Automechanika Academy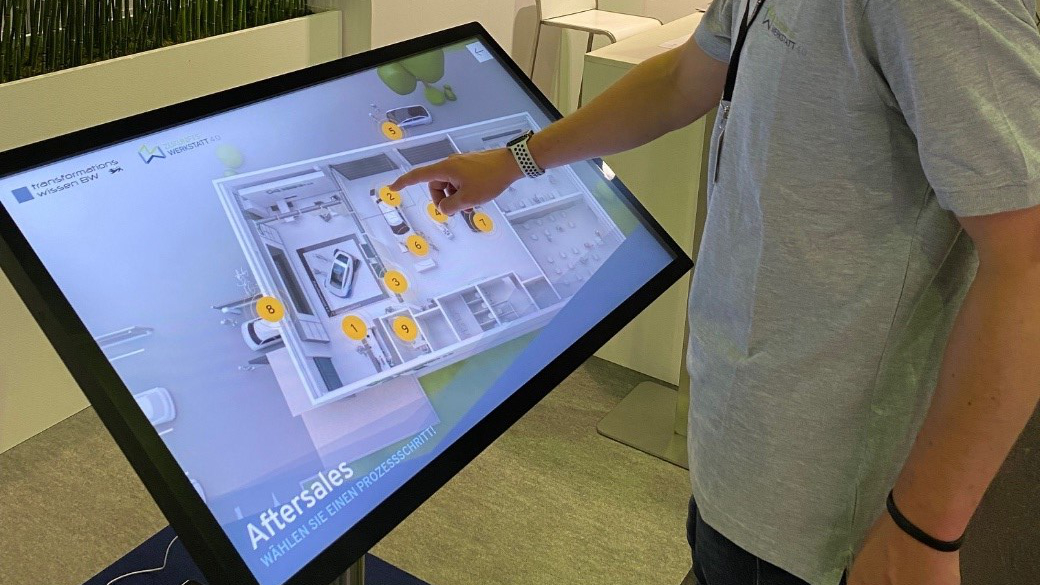 In addition, the Future Workshop 4.0 will organise three forums at the Automechanika Academy with impulse statements and a panel discussion.

Tues. 13.09. 11:30-12:30 hrs:
Innovative services in the after-sales business of the future
Thu. 15.09. 11:30-12:30:
The paperless and networked workshop - opportunities of digitalisation
Fri. 16.09. 11:00-12:00:
Alternative drives - challenges and opportunities in the car dealership of the future
Get-together
On Wednesday evening, 14 September, the Future Workshop 4.0 invites innovators from the industry to a get-together at its stand. Registration is required.
To the registration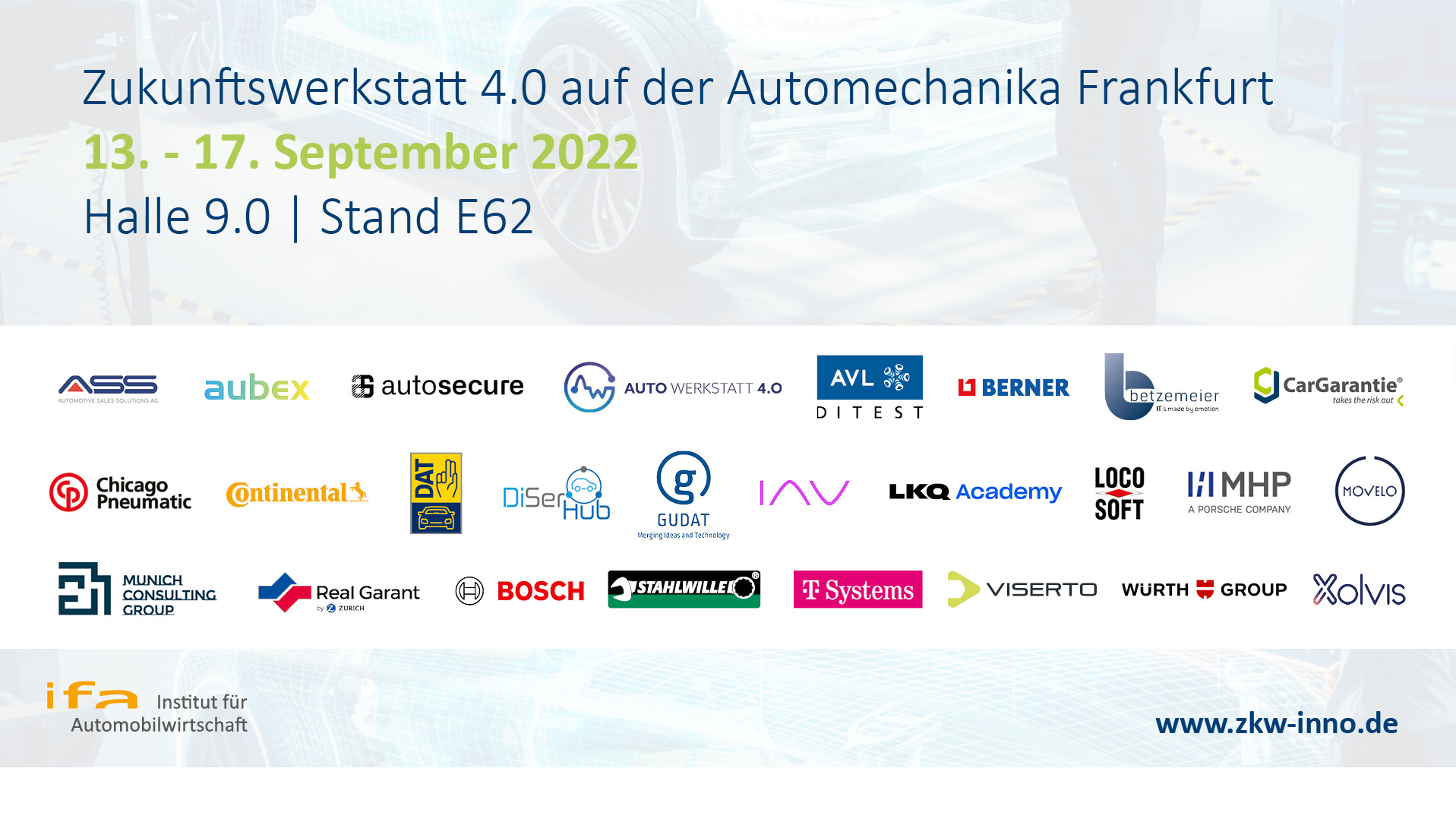 About the Future Workshop 4.0 in Esslingen
More than 100 partners make Zukunftswerkstatt 4.0 the innovation hub of the industry. Designed as an open platform, Zukunftswerkstatt 4.0 is one of the most important networks in the entire industry.

The Future Workshop 4.0 makes an important contribution to accompanying the companies of the automotive industry within the technological transformation process and preparing them for upcoming changes. To this end, the structures of a modern car dealership are reproduced on around 450 square metres. The aim is to give industry players an overview of innovative technologies and systems of today and tomorrow along the customer processes in sales and aftersales. A visit to the Future Workshop 4.0 in Esslingen is recommended for employees and decision-makers in the industry alike - from trainees to service or sales consultants to managers.

Visitors to the Future Workshop 4.0 in Esslingen will receive impulses from around 100 innovation partners on a neutral platform on how they can make their daily business more efficient and future-oriented. In addition to the workshop and showroom, multifunctional rooms with the latest conference technology are available for a variety of usage concepts. This environment allows theory and application situations to be linked in the highest quality. An extensive partner network with over 100 partners has been built up around the Future Workshop 4.0 with a wide range of offers.


Further information